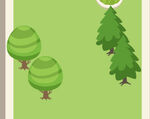 Trees are found in two types in Pet Society -- Neighborhood Trees and Garden Trees. This page is about Garden Trees. For information on Neighborhood trees, see the Neighborhood Trees page.
Growing Garden Trees
Garden Trees are grown by buying a tree seed from the Garden Store, planting the seed in your garden, and waiting 72 hours for it to grow to maturity. The type of tree grown from a normal tree seed is random, while limited time tree seeds will produce a special type of tree.
Each garden tree produces one kind of homegrown fruit. Every day, fruit has a random chance of appearing on your tree. These fruits will continue to appear slowly over time on your tree until the tree reaches its maximum. The number of fruit allowed on a tree was originally capped at three, was changed to hold up to six in mid 2009, and now is back down to three as of April 2010. Frequent glitches will allow some players to have four fruits on their trees. If you own the Fruit Fairy, you can have up to four as well.
Many people ask: "Why isn't my tree producing fruit?" The time it takes for a tree to produce fruit is completely random. Some people have trees that produce fruit right away, while some unlucky people do not have fruit until weeks after the tree has matured. There isn't really anything you can do about it except for wait. Garden trees cannot die -- they just may be slower than others in finally giving you fruit.
To pick a fruit, just click on the fruit and drag it into your chest. Your tree will continue to produce fruit indefinitely, so long as you keep picking the fruit. Some people have reported that a particular tree will no longer produce fruit once they have an inventory of 99 of that tree's fruit.
Important Note: Trees cannot be placed in a pet's chest/inventory. When you pull a tree out of the garden, there will be three options: 1) remove the tree permanently, 2) pay playfish cash to turn the tree into a bonsai, or 3) Undo your action. Once the tree is in bonsai form, it can be placed in your chest and used to decorate a pet's house. When a tree is removed from your garden, you cannot get it back.
Normal Cash Garden Trees
Pet Society Cash Trees
Other Trees
These trees cannot be bought in the game, but must be acquired through other means.