The
Stadium
is a location in the
neighborhood
where the Race mini-games are found. Your pet can practice racing, race for money, or bet on other pet races. You can earn several
trophies
by participating in these mini-games.
History
The Stadium was introduced to Pet Society in September 2008. Like the Cafe, it was first show as "in construction" before finally opening. It is the first place in the Neighborhood that was not a store (before Pond or the Treasure Hunt was released) and one of the few places without an owner.
In-game description from the Pet Society Blog:
"Despite pets not being eminently athletic types, the stadium is nonetheless a popular venue for pets young and old to meet, race, cheer on their friends and slip over on unfortunately placed banana skins. Even the Mayor has been known to enter himself for occasional hurdle races, although his track record is poor."
What to Do
There are four things you can do at the Stadium:
Inside Appearance
Whenever a race is in progress, the stadium bleachers will be full of other pets watching the race. If you have 12 friends or less, the pets at the stadium will be generated randomly by the game. This is why some of these pets will be wearing clothes that are no longer in stores.
During the Happy Thanksgiving Week, appearances of the other 2 pet competitors are changed into turkeys.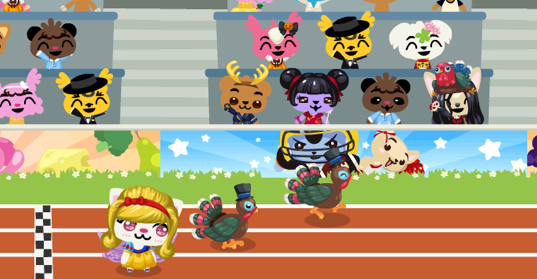 Community content is available under
CC-BY-SA
unless otherwise noted.