Pet
A pet is what you create when you first join the game. All your pet's features are free when you first join, if you dislike the features you can later change them at the stylist , but you have to pay.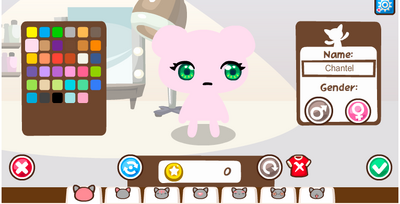 How do I create my pet?
When you first enter the game, you will see the Stylist screen, but all the features are free. Just simply click ona tab to see the body parts of that section, and choose your favorite parts, then click the tick. Remember, after you create your pet, you will need to pay to change the features.
What can you do with your pet?
Pet Society is all about your pet. You can play with it, dress it and decorate it's house. All the clothes you buy at the Clothes shop can only be used on this pet. Better yet your pet can have a pet called a petling . Other things you can do are earning coins and Pet Society cash to buy new items for your pet. By sending gifts and doing anything with your pet you can paw points and level up to gain new rooms, soaps , brushes , balls , skipping ropes and frisbees . each pet is unique and will be able to be customized in over 3 billion ways just at the stylist . not to mention wigs and clothes .
More information
This article is about the pet, a character which is the basis of your game screen. For more information on gameplay, please visit the homepage, and search for specific in-game features. You can also look at the tabs above the article, and click on links that are suitable for the information you are looking for.
Or go back to the homepage , and choose a section.