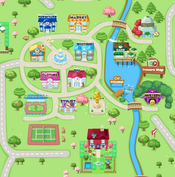 The
Neighborhood
is the main navigation page outside of a pet's home.
This is where you can see and visit all of the various stores and special sections of Pet Society. You can also visit your friends and see the outside of their houses this way.
Stores
Current Stores
There are ten shops currently on the map.
Removed Stores
These stores have been either removed from the game or have been renamed and changed substantially from what they were.
Other Locations
These locations have mini-games in Pet Society.
Pond -- This is where your pet can fish.
Stadium -- This is where your pet can run races and bet on other races.
Treasure Map -- This leads to a larger map where your pet can choose a location to dig for treasure.
Current Map
The neighborhood page as of February 17, 2010.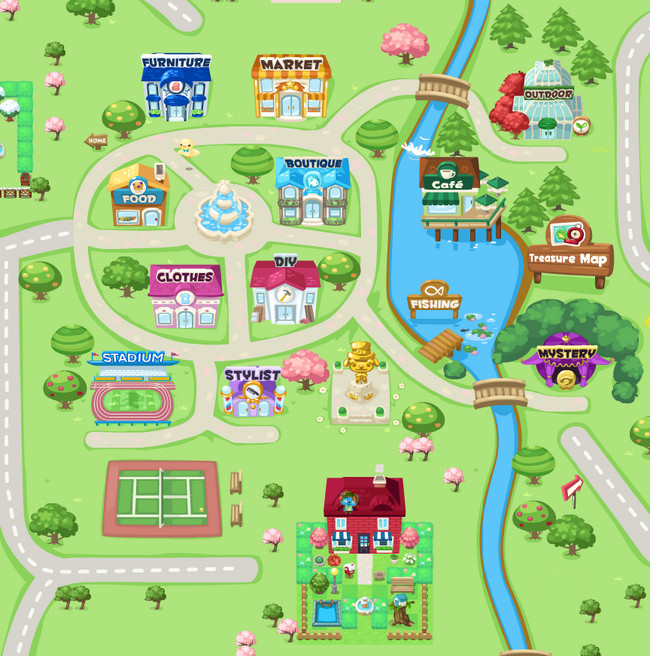 History
The look of the page has changed dramatically over the life of the game as new shops have been added and new features have been unveiled. The most recent change has been the shift known as "Pets Town." Your pet can once again walk around the neighborhood and visit friends' houses, shake trees, and visit stores. This is a return to how the game was when it was first introduced, but this time there are more shops, new graphics, and you can customize the outside of your house. This map also introduced the Mayor's house.
Past Map Versions