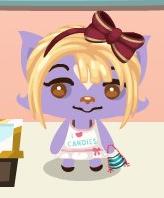 Lily is a character in Pet Society. She owns and runs the Clothing Shop. Based on comments she makes in the store, it seems like Perry (the Cafe owner) likes her.
In-game Description
Felicity's long suffering best friend Lily's passion for knitting far outweighs her talent, but that has never stopped her from attempting the most spectacular feats of craft the village has ever seen.
For instance her recent attempt to create the world's largest knitted Mystery Box ended catastrophically when she tragically forgot to give the box any corners. In a moment of rare inspiration the Mayor suggested that the failed Mystery Box be put forward as the world's largest scarf instead.
After a lengthy launch ceremony the Mayor invited press and photographers to record the historic occasion of the village becoming the proud owner of the world's largest scarf. Unfortunately a thread from the scarf became attached to the mayor's shirt button and by the time he realized his mistake he'd been driven home and the scarf had been entirely unraveled.
Undeterred Lily has pledged to knit an even longer scarf, on the condition that the Mayor keeps a safe distance from it at all times.
Quotes
"I find the things in Felicity's Market shop so pretty! Have you seen them yet? Those plushies are just so adorably cute!"
"Mr. Perry at the cafe is SO sweet and kind! He always comes in with a free coffee, sometimes twice a day! And it's truly delicious! Please do thank him for me if you see him!"
"Oh I keep getting in a terrible state forgetting to mark which boxes have which sets of clothes in! It's too late now, I'll have to sell them like Mystery Boxes!"
"We don't just sell clothes, we sell pretty and handsome wigs as well! Just take a little walk down the aisles, I'm sure you'll find something you like!"
"We've got new styles every week! You can buy a complete outfit or mix and match!"