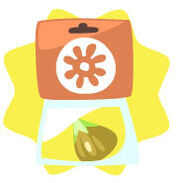 This article is about the item Flower Seed. For a listing of all flower seeds in the game, see the List of Flower Seeds. To see a list of all flowers in the game, see Flowers.
The Flower Seed is a type of flower seed that can be purchased at the Outdoor Store. This seed will grow into one of fourteen possible flowers.
For a limited time, there was an option to "make a friendship bloom" when visiting a friend. Choosing this option and posting to your friend's wall gifted them a flower seed when they clicked on the link. The Flower Seed was also a treasure that used to be found when digging in the Town Forest.
Item Summary
Cost: 200 coins
Sells for: 66 coins
Recycles: 400 points
Giftable: Yes
Added: June 8, 2009
Removed: No
Flowers from Seed